Book Recommendations from Read Quebec's New Team for Fall 2023
by Alexandra Sweny and Nived Dharmaraj
With the change of season comes a change in the Read Quebec masthead as well – hello from AELAQ's newest hires!
We both are honoured to take on the mantle of the Read Quebec website and thought that a great way to introduce ourselves (and bring back Read Quebec's seasonal reading list) would be to share our own favourite fall books. Check out what we're reading below.
Nived Dharmaraj recommends:
Spores by Joshua Barkman
Self-published, 2022
I first came across Barkman on Instagram, when I was back in India and Barkman still lived in Ontario. I was completely taken by his bird comics and subscribed to his page, @falseknees, thinking that liking his artwork on my phone would be the extent of my interaction with him. Cut to four years later, and Barkman and I have both made our independent journeys to Montreal, Barkman with two books out and me with a new degree and job.
Spores follows the magical bridging of communication across species on an as-magical forested winter day. After the fall of a meteorite, red mushrooms sprout and spread, the only colour on the otherwise black-and-white pages. As the alien fungi proliferate, animals in proximity – from mice to moose to Barkman's iconic sardonic birds – suddenly develop the ability to converse with one another. In an existential and emotional turn, Barkman questions communication and its ability to change relationships. "I'm not sure it would change much," an owl states, to which the moose, gazing up at the snowy sky, replies, "Well… I feel a little less lonely." "Me too," the owl responds, on behalf of this reader as well.
Witty, touching, brilliant, Barkman's latest is a much longer narrative than the hilarious four-panelled quips most are used to from him. Though I had already read the entire book as weekly instalments online, I was lucky enough to get my own signed copy of Spores at the Montreal Comic Arts Festival earlier this year. Keep an eye out for him at next year's festival and check out his work online (recently translated into French too) in the interim!
---
Everything is Ori by Paul Serge Forest
QC Fiction, 2023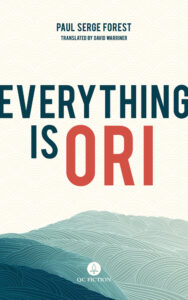 As a newly minted pescatarian, I wasn't sure if Forest's debut novel would validate my dietary decisions or send me running back to vegetarianism – the book, translated by David Warriner from the original Tout est Ori, centres around the Lelarges, a multigenerational family that manages a prosperous fishing plant on Quebec's North Shore. Interrupted by descriptive interludes on various seafood that blur the line between erotic and educational, the reader follows the characters as they grow and experience death, puberty, addiction, and more. Despite only really being familiar with Montreal, I was instantly drawn to the quiet, chaotic Baie-Trinité, hooked by the descriptions of craggy coast and salty air. Having grown up by an ocean in the tropics, I felt both kinship and curiosity to the icy waters of the Saint Lawrence.
A seemingly normal, upper-middle-class, close-knit family, the Lelarges' lives are thrown off-kilter with the introduction of Mori Ishikawa and the mysterious ori. The Lelarge patriarch's death and youngest daughter's shellfish allergy set the stage for what becomes bigger than household drama, bigger than Food Inspector Frédéric Goyette's vendetta, bigger even than the global conspiracy lurking in the background. What exactly is ori? You'll have to read and read (and read) to find out.
---
Alexandra Sweny recommends:
Wet Dream by Erin Robinsong
Brick Books, 2023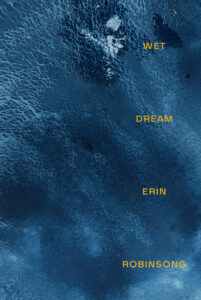 One of my best friends gave me a copy of Erin Robinsong's Wet Dream when I graduated in June, back when we were hurtling towards the longest day of the year rather than the shortest. Tucked inside was a note of encouragement and optimism about my future – a much-appreciated counterweight to the doubt I was feeling. Ever the sage, my friend had chosen a book prescient not only for that moment, but for the ambivalent haze of the summer to come.
In an interview with Open Book, Erin Robinsong described Wet Dream as "what [it's] like to live in an oven as it pre-heats." "Is there still pleasure and joy there?" she asks. "Yes! Is there anxiety? Yes! Is there anger? YES!" In this sense, Wet Dream appears as a kind of pressurised prism, refracting and distilling difficult emotions alongside moments they boil over into relief. Take for instance the poem "Kitchen Dance Party," where the speaker muses "the year was just beginning and already / we'd remembered how to make our own heat." The sweltering images of steamed-in windowpanes and the flush of wine come feverish after poems like "Smoke from 551 Fires" and "Pre-heat," poems that take the temperature both personally and collectively across the fire-ravaged landscape and the speaker's own 31° apartment, where she writes, "my cat has been barfing / almost every day."
A must-read for the next unseasonably hot day.
---
Back in the Land of the Living by Eva Crocker
House of Anansi Press, 2023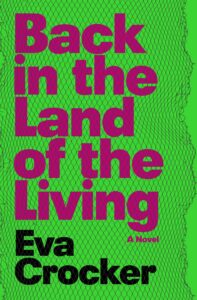 Back in the Land of the Living is Eva Crocker's second novel, coming out on the heels of the Giller long-listed All I Ask (2020). While Crocker initially said that she found writing about Montreal "challenging" compared to her hometown of St. John's, Newfoundland, Back in the Land of the Living marks a sure success, offering a resonating impression of Montreal for newcomers and locals alike.
The novel begins the first of September, with Marcy arriving at her Facebook housing group-sourced sublet wondering whether she'd "sent rent into the ether." She's greeted by Al, the first of several oat milk and bike loving roommates. Readers can map Marcy's movements as she moves sublet to sublet, dropping pins at familiar Montreal landmarks: a ride along the orange line to Namur metro for a Dollar Cinema special; jogging along the icy Home Depot trails; skating loops around the duck pond at Jarry park. The novel charts equally effectively the well-trod territory of young queer relationships, handling with a simple grace that fine tension between codependency and self-determination. Against the familiar backdrop of the Mile End, Back in the Land of the Living commits these understated moments of intimacy – trudging across a frozen front yard to a basement apartment, sharing a joint in Laurier park, checking out together at the dep – to the city's literary imaginary.
Bonus: Catch Eva in conversation with Catherine Hernandez for the literary podcast Getting Lit With Linda on Saturday, November 4 in Concordia University's De Séve Cinema as part of the Read Quebec Book Fair.
---
Are You Willing to Die for the Cause? by Chris Oliveros
Drawn & Quarterly, 2023
Are You Willing to Die for the Cause? is the second book from Chris Oliveros, founder of Drawn & Quarterly. Oliveros left D&Q in 2015 to complete The Envelope Manufacturers (2016), a fictional work drawing on Oliveros' own experience "in the mid-1990s, when I was ordering envelopes for Drawn & Quarterly." Evincing a clear penchant for hybrid fictional forms, Oliveros turns in his second novel from personal to political history. In Are You Willing to Die for the Cause? Oliveros' six-panel frames take the form of a fictional documentary, rumoured to have been shot in 1975 before being scrapped from production. Recovered from the basement of a retired CBC employee, this box of transcripts serves as the "found footage" basis for Oliveros' graphic novel, allowing him to reimagine conversations with activists, politicians, and officials as they would have occurred on film.
Are You Willing to Die for the Cause? marks a playful contribution to what Linda Hutcheon calls historiographical metafiction, a form of writing that takes historical documents and events as the basis for fictional reimaginings. Particularly popular among Canadian postmodernist writers (I think of Ondaatje, Findley, and Bowering, to name a few), this form reinvestigates and retells stories considered "official history" – in Oliveros' case, the October Crisis of 1970 and the rise of the FLQ in Quebec. Drawn with an unassumingly simple style that has become distinctly Oliveros' own, the novel approaches one of the most volatile and contested periods of Canadian-Quebecois history with an ease and humour that deep-diving readers can supplement with a twenty-five page long appendix of citations and bibliographical information.
---
Nived Dharmaraj (he/him) is a recent graduate of McGill University's English MA program. Having written his thesis on Indian historical and science fiction, he's now eager to spend time with literature closer to his new home. If you see him biking around the city, don't say hi because he will get distracted and crash!
Alexandra Sweny (she/her) recently completed her master's in English literature at Concordia University, where she worked with archival literary collections as a member of the SpokenWeb research network. When she's not reading, you can find her running up the mountain or untangling herself from her knitting (both Sisyphean tasks).
Illustration by Mary Kirkpatrick.