The Favorite Game: English-Quebec Literary Trivia
November 28, 2020 at 8:00 pm

-

9:00 pm

EST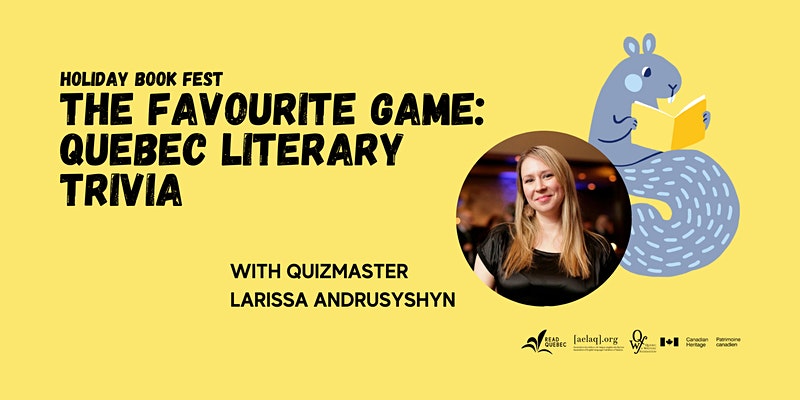 How book-savvy are you? Test your knowledge of all things Quebec lit in this virtual pub quiz (you'll have to BYOB). Pit your wit against the crackerjack mind of quizmaster and poet Larissa Andrusyshyn, win prizes!
 How to participate:
Draft a team of up to 3 people and register for the event (you can also play solo or with one other person). You'll receive a link to join the Zoom event on Saturday Nov. 28th.
Choose a team name.
Be ready with a pen and paper, and remember NO googling! You can have smart friends not smart phones! We will work with the honour system, honorable as we are.
Make sure you don't post answers in the event's Zoom chat. You'll need to organize a group chat on the platform of your choice (i.e. text, Messenger, Whatapp, Google Hangouts, or just pick up the phone!) for the event so you can communicate with your team, if you don't live in the same place.
Each team will elect a captain who records 'final answers' for each round on paper.
The quiz will be divided into several rounds with breaks between for teams to discuss.
Answers will be given after each round and team captains will report scores to the quizmaster.

Top scores will win prizes from our generous donors: Pow Pow Press, Véhicule Press, Metonymy Press, and Drawn & Quarterly.

Got it? Got it. See you there!
About your host:
Larissa Andrusyshyn is a writer, teacher and local quizmaster. Her trivia nights have drawn crowds at many pubs and fundraising events in Montreal and she is the longstanding host of the weekly pub quiz at Ye Olde Orchard Pub in NDG where over the years they've collected upwards of $10, 000 in support of the NDG Food Depot. She is also an avid quiz participant and hopes one day to make an appearance on Jeopardy! where she can carry on the spirit of her inspiration Alex Trebek.