Meet the Presses: Publishing in 2020
November 28, 2020 at 2:00 pm

-

3:00 pm

EST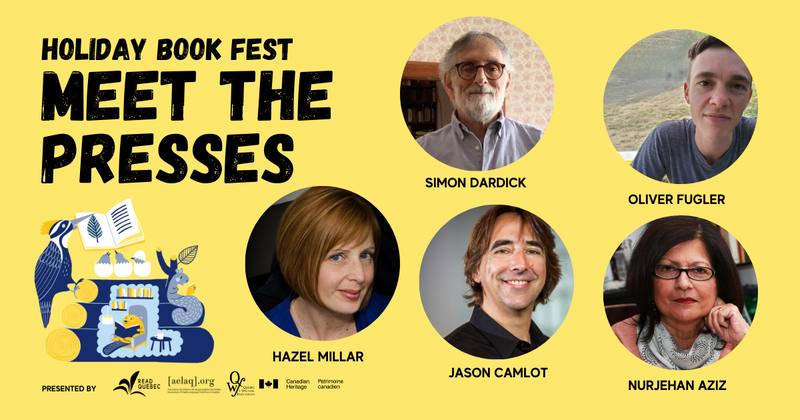 How has the pandemic affected an already-precarious industry? What are the new challenges, and how are publishers meeting them? What strengths can they bring, and what's the way forward? More generally, how do publishers decide what to publish? What can authors do to get their books noticed? Get the answers to these questions and more in this panel, featuring representatives from new and established presses. Panel discussion followed by audience Q&A.
With Oliver Fugler (Metonymy Press), Simon Dardick (Véhicule Press), Hazel Millar (Book*hug), and Nurjehan Aziz (Mawenzi House). Moderated by Jason Camlot.
This event will be transcribed live. Brief instructions on how to access the live transcript will be provided at the event.
Jason Camlot's most recent works include Phonopoetics: The Making of Early Literary Recordings (Stanford 2019), and CanLit Across Media: Unarchiving the Literary Event (co-edited with Katherine McLeod, McGill-Queens, 2019). He directs the SpokenWeb research network, and is Professor of English at Concordia University.
Hazel Millar is the Co-Publisher at Book*hug Press, an independent literary press based in Toronto. She is the past Chair of the Board of the Literary Press Group of Canada and sits on several other publishing advisory boards and committees  She lives in Toronto with her husband, Jay MillAr, aka, the other half of Book*hug Press, their two sons, and a cool calico cat named Tess.
Oliver Fugler is co-publisher at Metonymy Press, based in Tio'tia:ke (Montreal). Metonymy publishes queer and feminist fiction and non-fiction by emerging and underrepresented writers, and our aim is to keep gay book lovers satisfied.
Simon Dardick is the co-publisher of Véhicule Press.
Nurjehan Aziz  came to Canada in 1980, and in 1981 co-founded a literary magazine, The Toronto Review of Contemporary Writing (1981-2001). She is the publisher and a director of Mawenzi House Publishers, publishing mainly writers with backgrounds in Asia, Africa, the Caribbean, and the Near East. She has edited a number of anthologies, more recently Confluences 1 and Confluences 2 (Essays on the New Canadian Literature).