Celebrating 20 years of multilingual children's music-books from Montreal publisher The Secret Mountain
by Robyn Fadden
"It all started with a garage sale in NDG," says Roland Stringer, publisher of the award-winning hybrid publishing house The Secret Mountain, weaving a tale of a random Saturday morning in the '90s spent walking down the tree-lined streets of the west-end Montreal neighbourhood with his three young children. They were hunting for toys, while he, working in music production at the time, kept his eyes open for old vinyl and books. He brought home Chansons, contes et comptines, an album of songs, nursery rhymes, and short stories that Québécois artist Gilles Vigneault had made for children.
"I thought, Oh wow, Gilles Vigneault did something for kids!" Stringer exclaims. "It very quickly became a go-to moment at the end of every day for us—we'd throw the vinyl on and listen and dance. It felt completely in sync with our lives." The only element the record lacked was production value, so Stringer brought together well-known Québécois singer-songwriters such as Richard Desjardins, Daniel Lavoie, and Lynda Lemay to recreate it in studio, with clearer sound and updated arrangements.
The recording experience was so positive it inspired a hybrid book-album, Un trésor dans mon jardin, with Governor General's Literary Award winner Stéphane Jorisch bringing the songs to vivid life on the page, and shining a light on Vigneault as a songwriter, a poet, and a writer of stories who captured the imagination of children and adults alike. Greeted with acclaimed reviews, Un trésor dans mon jardin led to the creation of the publishing house itself.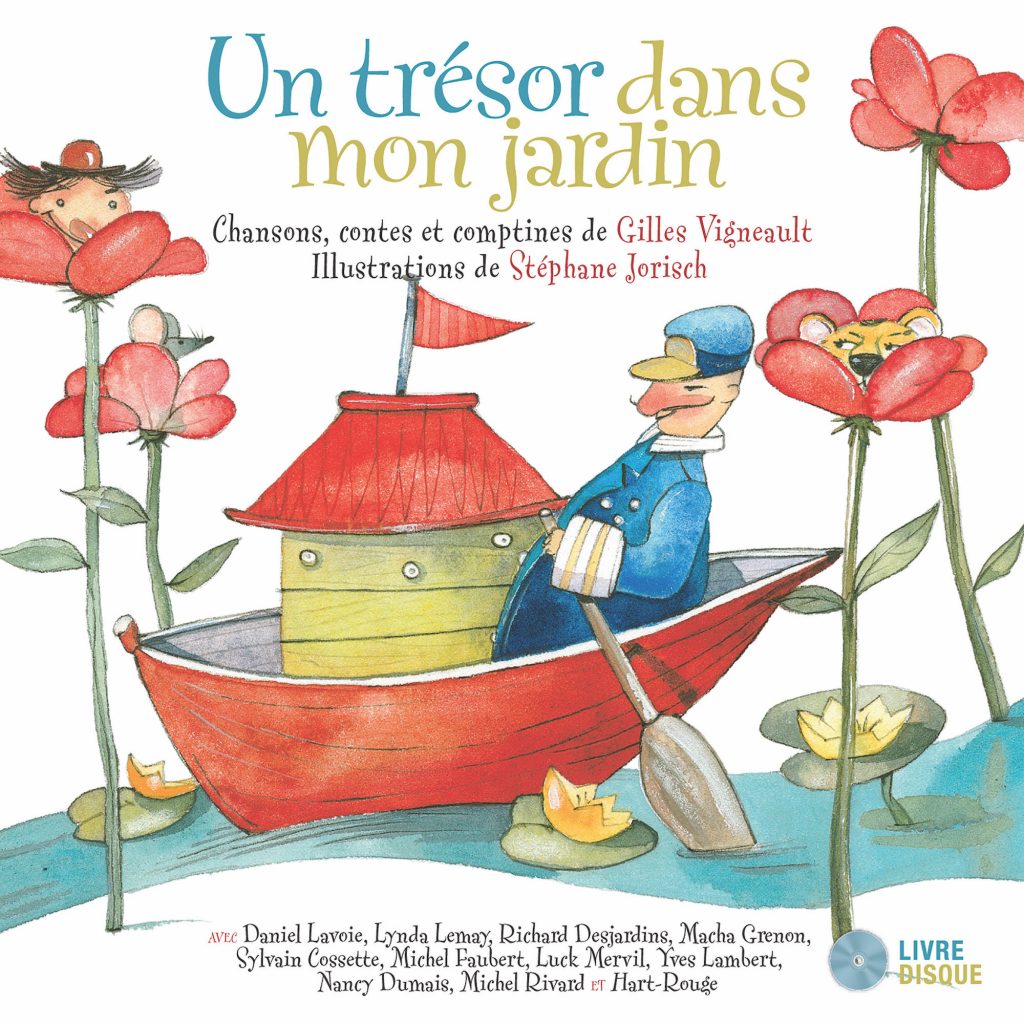 "The way the recording and then the book evolved was very much a tribute to Vigneault, engaging a wide array of Québécois voices," explains Stringer. "That's been a big part of what we've done since, centring Quebec in a large sense with francophone singers from here, across Canada and Europe, and many other countries and cultures. As The Secret Mountain grew, we were able to explore the rich musical community we have in Montréal, musicians from all Africa, Spain, Mexico, all over the world, who call the city home."
Stories and songs that put kids first
Over the past 20 years, The Secret Mountain has mobilized a roster of talented authors, illustrators, and musicians to create kid-focused publications that ardently reflect the times and continue to reset expectations for children's literature and music. Along with collaborating with classical, jazz, rock, folk, and world music artists, Stringer would go on to work with Vigneault's catalogue on several more occasions, creating storybook-CDs like Sunday in Kyoto, with Patrick Watson, Coral Egan, Ndidi O, and more singer-songwriters on the English version and Garou, Pierre Lapointe, and Ariane Moffatt on the French Un dimanche à Kyoto.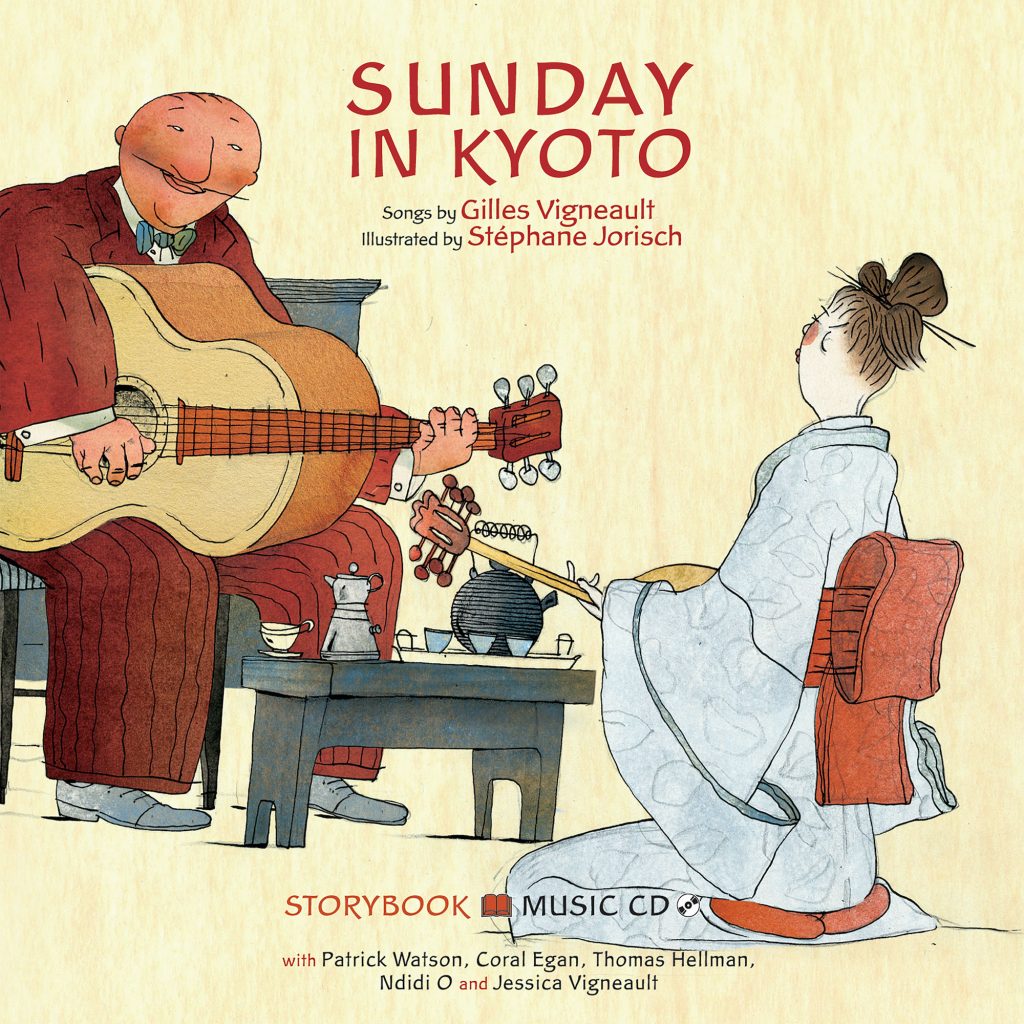 "All the musicians who collaborate with us have their distinct careers, but they go into these projects with an unabashed openness," says Stringer. "They know this is about the kids and are really willing to let go, try the songs in a completely different way, ask us what works best for the story."
So, naturally, every Secret Mountain publication is built on its own formula, sometimes starting with a story idea, a song, or an illustration, created for the physical page as well as for speakers and the screen. The different formats allow families and educators to experience the books and music as they wish, with the devices they have access to.
"We're creating in these different formats to allow for that accessibility," says Stringer. "We've really embraced the digital, and I never viewed it as competing with physical. Yet the memory that is associated with a physical object, the notion of transmission and sharing, of gift giving, of books that you keep for a lifetime because they're associated to a moment in time and a person—all of that is still very important."
How kids and families experience the books/albums is up to them. "It all depends on the context and the child," says Stringer. "When we're putting the books and music together, we're thinking about them together, but in reality some children go for the book and the story first and won't listen to the music until later. Some families play the CD or MP3s in the car for months before they get into reading the book. The music can help to pull audio-oriented kids into reading because they love the songs and start wondering what the story is about."
Children's lit with a twist
In creating content for children, the publisher faces unique challenges, from striking a balance between education and storytelling to meeting the needs of different age levels. Even with those serious considerations in mind, The Secret Mountain maintains that children's literature should be exciting, playful, and challenging.
"Sometimes simply adding a multisyllabic word into the story can do that," says Stringer, "especially since a child goes back to the book several times, often with their parent, family member, or educator—there's a lot of great dialogue that comes with that."
And when it comes to musical styles, the publisher doesn't water anything down. "We aways say it, but must never forget it: kids at square one are open to everything musical," explains Stringer. "Kids don't have any preconceived ideas about music; they don't think jazz music is pretentious, they just say, Bring it on."
When it does come to overtly children's music, Stringer has an ear for that winning combination of silly, heartwarming, and smart. That's why he went on an archival hunt for the music of Alan Mills, best known for his CBC radio folk music show in the 1950s, his Folkways Music recordings, and his rollicking live shows with Québécois fiddler Ti-Jean Carignan. He's also the musician who made "I Know an Old Lady Who Swallowed a Fly" famous.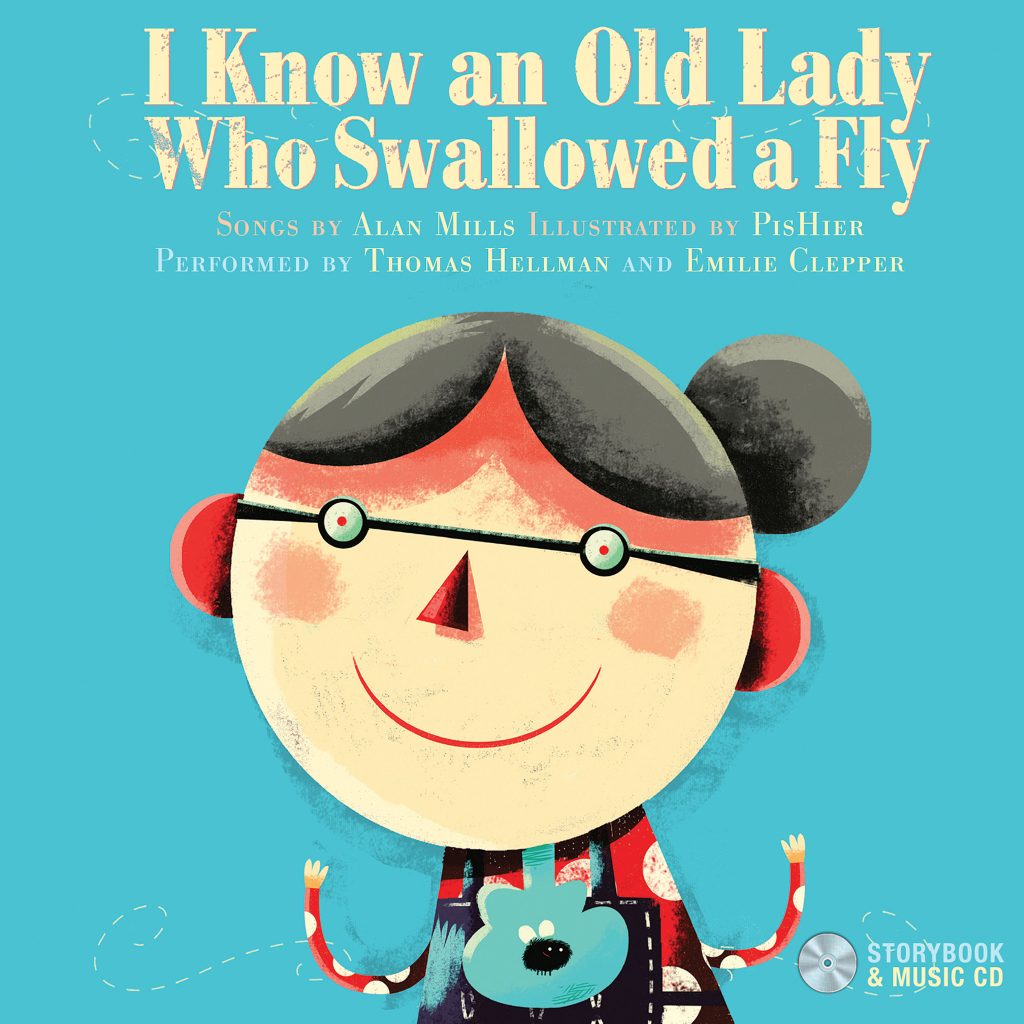 "Alan had written many songs for kids, but everyone thought 'I Know an Old Lady' was a traditional folk song, hundreds of years old," says Stringer. "I delved into Folkways Records and 30 boxes of family archives of his work and saw that the lyrics were by a British woman named Rose Bonne and the music was written by Alan Mills. When we recorded the album in English and French with musician Thomas Hellman and Émilie Clepper, we stuck to the original songs—with the old lady swallowing a horse, of course, at the end—because that's classic Allan Mills humour: poking fun at things, being a bit nonsensical, getting a laugh out of everyone."
Sounds of springtime
Looking ahead, The Secret Mountain's upcoming releases are both humorous and heartening, ranging from whimsical encounters with Mozart and Tchaikovsky to a story centred around traditional Chinese song. Little Stories of Great Composers is a new classical music series by Ana Gerhard that features an illustrated mouse named Minim, performances by chamber orchestra I Musici de Montréal, and narration by Canadian actor Colm Feore. The charming Sing Out! focuses on classic folk songs of the '50s and '60s, performed by Montreal duo Sin and Swoon and illustrated by Sophie Casson in a fitting retro style.
Leaping across the world, Spanish book Music All Around is the first in a new series "One Story-One Song," telling the story of Sofia by the sea and in the forest, with illustrations by Lucia Cobo and music by Cristóbal López Gándara. Summer Moonlight Concert from Chinese illustrator-author Han Han follows the story of a musical family living in a large apartment block when the power goes out one summer night—a warm-weather echo of Montreal's 1998 ice storm—prompting the father to play his erhu and the mother her accordion for all the neighbours.
"In every publication, we've created layers to explore," says Stringer of The Secret Mountain's history and evolving future. "Sometimes in music, you'll have a sad lyric on a cheery arrangement—that same juxtaposition happens in a picture book between the words and the illustrations. Music adds another level of emotion and interpretation, and brings the story elsewhere. Together, a lot of fun and great discussions can come out of that, no matter what age you are."
Follow The Secret Mountain on Instagram and Facebook as well as on YouTube and multiple streaming platforms.
Robyn Fadden is a writer and editor based in Montreal. Formerly Arts & Culture Editor at weekly Hour, she continues to write about the city and its creative forces. Find her at apoemabouteverything.com.