Sruti Islam creates a new local literary space with Weird Era
by Misha Khan
"I think I'm a much better reader than I am a writer. I can confidently say that I read well, and widely," says Sruti Islam. "I had become everyone's book recommending friend at a certain point,so I thought I would create a small space to share my picks."
Islam's newsletter, which highlighted her top recommended book picks, quickly developed into something else altogether: Weird Era, a new and distinct literary space that spans across media to curate a vast selection of books, host conversations that thread together a network of authors, and give writers an opportunity to have their work published. In partnership with local indie bookstore Librairie Saint Henri Books, Weird Era strives to push forward the city's hidden talent and expand the scope of Montreal's literary community.
Once Saint Henri Bookstore owner Anthony Benda discovered what Islam intended to be a small passion project, Weird Era began to take shape. "I tended to recommend books that weren't necessarily all new titles, but rather those that have just come into my life and had been published in the 1960s, for instance," she says. "Then, readers of the newsletter started asking how to get a hold of these books, and that's ultimately how Weird Era and Librairie Saint Henri Books married."
Together, they decided to dedicate space on the local bookstore's shelf for Weird Era picks. "These monthly newsletters would come out, and we would have a physical resource for locals to buy the books I was recommending. It went really well, and then developed into all these projects."
However, Islam's creative journey traces back much farther, to her childhood days. "My dad was a journalist and a playwright, so I grew up in a household where consumption—predominantly media consumption—was normalized. It was a space that emphasized the arts, so it made sense that I became the reader I am today." Her childhood and adolescence were spent exploring theatre, stand-up comedy, and hosting a music radio show at CJLO while completing her undergrad at Concordia. Islam's creative endeavours varied and expanded throughout the years, but regardless of the pursuit itself, she notes, "I've always maintained myself in a community of like-minded people who care about an artistic project."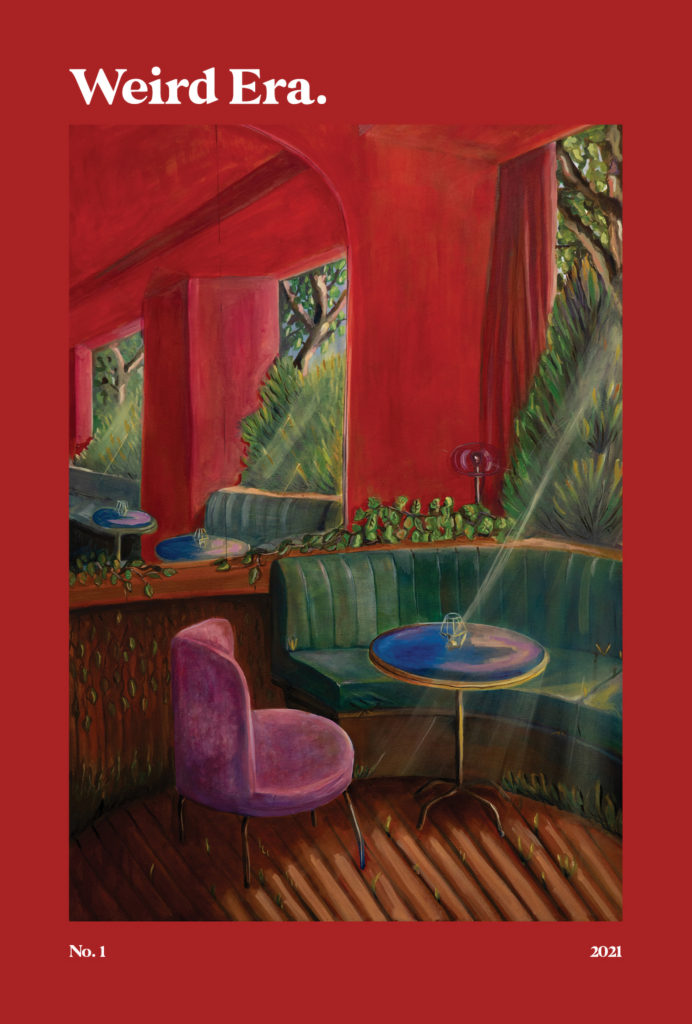 The creation of the literary journal itself has been a long-time dream of hers. "Ever since I came across the Paris Review. I had never seen a print publication quite like that before, and it completely changed my worldview of what could be done through magazines and arts, both visually and content-wise." With Weird Era, Islam prides herself on her precision and dedication to ensure that the journal retains a high level of quality. "There isn't an ounce of that journal that I did not approve," she explains. "Every corner of it was run through by me. Even if we didn't like the sizing of the font on page seven, we needed to change that."
Along with the journal, the pandemic pressed Islam to navigate and adapt her work into a new model. "I was also hired to be an events manager at the bookstore," she explains, "but once the pandemic happened, I was no longer able to host in-store events." Beginning with Raven Leilani's debut novel launch, both she and her colleague, Alex Nierenhausen, experimented with livestreams, in hopes of sustaining the conversations that were taking place. However, with people adjusting to the new normal of working at home while taking care of their kids, managing their daily chores and processing the wildfire of global crises that followed, the livestreamed events presented a new set of challenges— notably with attendance rates .
"The podcast was the perfect solution. If you missed an interview or book launch, you could still catch it on some sort of platform that would be more concrete." From Atmospheric Disturbances author Rivka Galchen to food journalist Mayukh Sen, Islam notes, "the authors we interview are Weird Era picks, so it was a way to marry everything that was initially started. The pandemic enabled us to make these shifts and adapt into this model."
With curating and managing a multitude of platforms, Islam emphasizes her focus on highlighting talented diverse voices that are often overshadowed or left behind in the literary community. "I love Montreal, but I feel this kind of push and pull constantly with its literary scene," she says. "In terms of the community, I don't feel very well represented. I'm very much a caricature —just a tokenized version of a woman of colour."
As she navigates her place in the community while running a business, Islam recognizes the constant friction she has when it comes to accessibility. "An issue I keep running up against is wanting to make the journal really affordable. It's not about the lack of quality by any means—I just didn't come from a very privileged background, and so it's important for me to make things as accessible as possible."
As Weird Era continues to flourish, it establishes a much-needed platform and space within Montreal, pressing the city to shift and expand its literary community.

You can purchase the first volume of Weird Era's literary journal exclusively at Librairie Saint Henri Books. Be sure to keep up with Weird Era on Instagram and listen to the podcast on Apple and Spotify.
Misha Khan is a freelance writer and activist with years of experience working in grassroots organizations. She has a passion for amplifying underrepresented voices and exploring topics ranging from mental health, literacy, and feminist studies in her writing.
Illustration by Nora Kelly