The Queer Film Classics book series relaunches with a new local publisher
by Zoe Shaw
Quebec has long held thriving connections to the histories of cinema and LGBTQ+ culture. The growing catalog of the series Queer Film Classics, edited by two Montreal-based academics and now published by a local press, exemplifies these connections.
Queer Film Classics began in 2009, originally published by Arsenal Pulp Press. The series would apparently end after nineteen titles, published in the series' first ten years, but McGill-Queen's University Press recently picked up the series for a continued run.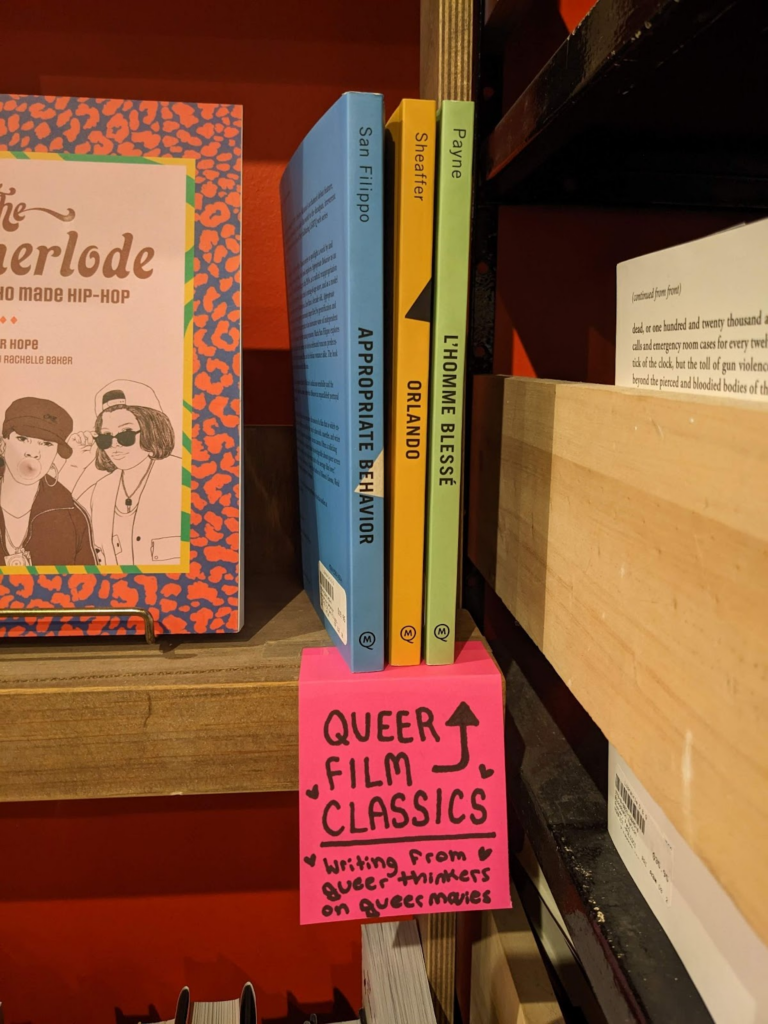 Under this new publisher, the series has published six new titles and counting, still under the leadership of the original editors, Thomas Waugh and Matthew Hays. Waugh is Distinguished Professor Emeritus in Film Studies and Sexuality at Concordia University, and Hays is a writer and instructor at Marianopolis College and Concordia University in film and media studies. Both expressed excitement and gratitude that the series is continuing, with Hays noting that "When we put out a new call for proposals, it was clear that the first nineteen volumes had had an impact; we got so many fantastic proposals, it was overwhelming. I'm very happy to have it continue." New cover designs (by none other than David Drummond, whose work decorates many titles at MQUP) bring recognizable splashes of colour and bold geometric shapes to the series' identity.
Despite a transition between publishers, notably a transition from a small press to a scholarly publisher, the series retains its same independent character. The new titles in the series are still trade books, accessible to audiences outside of the academy, but they benefit from the early peer review process shared by the academic titles at MQUP.
To those who might worry about an exclusionary ivory tower slant, Waugh explains that the books are "designed for mixed general audiences including academics and students of course, but also everyone from film fans to queer cultural history buffs. We push for accessibility and personal vantage points rather than esoteric academic 'objectivity.'" Hays elaborates, citing contributors' continued intellectual rigour in combination with their personal angle: "I love the idea of the series being accessible while having academic applications. Smart, but readable for non-academics. The books have required a lot of research and rigour on the part of the authors, but are also full of personal reflection on the films in focus."
The series has bridged the gap between academic monographs and personal narratives since its inception, and it will continue to do so moving forward as has been exemplified in the six titles that have been published by MQUP: L'homme blessé (Patrice Chéreau, 1983) by Robert Payne, Boys Don't Cry (Kimberly Peirce, 1999) by Chase Joynt and Morgan Page, Orlando (Sally Potter, 1992) by Russell Shaeffer, Appropriate Behaviour (Desiree Akhavan, 2014) by Maria San Filippo, Midnight Cowboy (John Schlesinger, 1969) by John Towlson, and À tout prendre et Il était une fois dans l'Est (Claude Jutra, 1963; André Brassard, 1974) by Julie Vaillancourt.
Contributors range from filmmakers to academics to journalists;, where the individual author's relationship with a film is a primary factor. The selected films differ in countries of origin and in queer identities; even the film release dates extend into the 2010s, cementing recent works as classics. Waugh and Hays select titles not on the basis of the films' long-held international reputations, but by the expert contributors' personal angle on the films. The series blurb on the MQUP website eloquently states: "Books in the series have much to teach us, not only about the art of film but about the queer ways in which films can transmit our meanings, our stories, and our dreams."
In the long term, the series aims to continue contributing to the development of the queer film canon, engaging with well known films and underground titles alike, including many Canadian films. Hays says, "Someone said that's what we were doing, helping to re-imagine the canon, and that was the greatest compliment I could think of."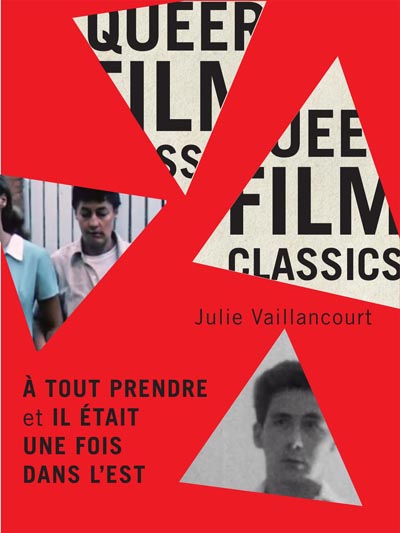 So what's next for Queer Film Classics? Their most recent title celebrates its release next month at feminist bookstore L'Euguélionne. Columnist and teacher Julie Vaillancourt's study of two films, Claude Jutra's À tout prendre and André Brassard's Il était une fois dans l'Est, is the first French-language title in the series, and an English translation will soon follow. The launch is on Saturday, May 20th, at 3 p.m. at L'Euguélionne, featuring cast and crew members from Il était une fois dans l'Est.
Upcoming titles also include global and local classics: Priscilla, Queen of the Desert (Stephan Elliott, 1994), Cabaret (Bob Fosse, 1972), Winter Kept Us Warm (David Secter, 1965), Maurice (James Ivory, 1987), The Children's Hour (William Wyler, 1961), Tomboy (Céline Schiamma, 2011), The Watermelon Woman (Cheryl Dunye, 1997), and Different from the Others (Richard Oswald, 1919).
You can find books from Queer Film Classics on the McGill-Queen's University Press website or at your local bookstore. Read about your favourite film, or discover new ideas for movie night by browsing the titles.
Zoe Shaw is a writer and editor based in Montreal. She is the Managing Editor at carte blanche literary magazine.
Illustration by C. Huynh