Summer Literary Events in Montreal
by Billie Gagné-LeBel
Summer may be universally synonymous with warmth, beach days, and vacations, but in Montreal, what really sets the season apart is events: the city comes alive with festivals of all kinds, pedestrianized streets, and sidewalk sales. The literary scene is not exempt from this excitement, and the summer of 2022 has its fair share of fun bookish events—here are some you should keep on your radar.
Uptempo Book Club
If you thought you'd heard it all before, brace yourself: Uptempo is a running club that hosts book club meetings! This means they get together for "book runs" to discuss a book. Since June is Pride Month, their next event is under the theme of queerness, and they're reading Detransition, Baby by Torrey Peters. If you're interested in joining their run and discussion on Friday, June 24, you can RSVP for free right here.
Book & Brunch Montreal
Montreal's chapter of the Book & Brunch book club is hosting a final brunch before its summer hiatus on Sunday, June 26. The book club is dedicated to celebrating writers from the African diaspora, and this month's book is Butter Honey Pig Bread by Francesca Ekwuyasi. You can buy your ticket right here; otherwise, keep your eyes open for when the book club is back in September.
Boundless Book Club
Boundless Book Club is a brand-new book club launching in Montreal. The club, which is geared toward queer and trans BIPOC, will meet on two different Sundays a month to discuss books by LGBTQIA2S+ and/or BIPOC authors. Their very first meeting is set for next Sunday, June 26, with a second one planned on Sunday, July 10, at Parc Laurier, to discuss She of the Mountains by Vivek Shraya. The event is free of charge, and you can RVSP right here.
Montreal Review of Books Summer 2022 Issue Launch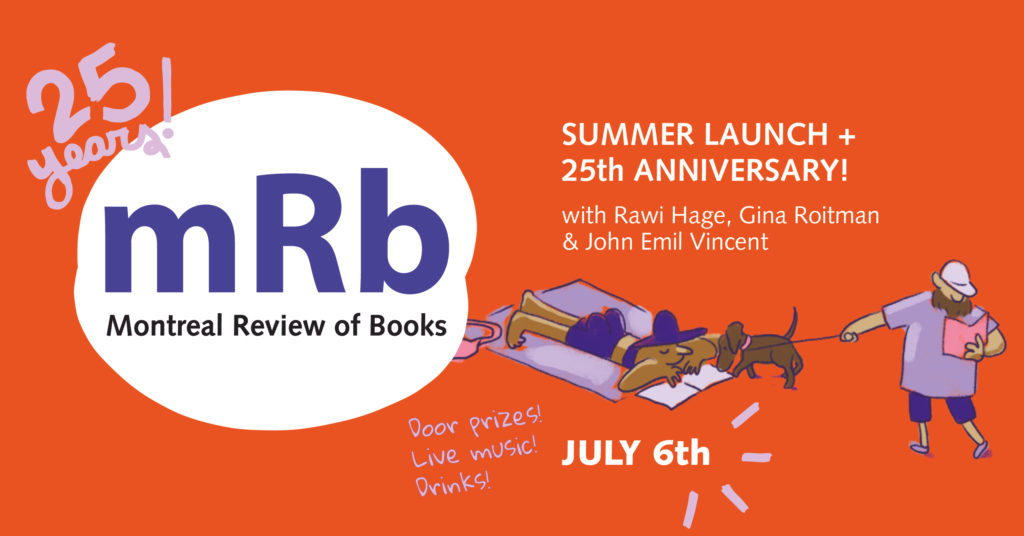 This launch is extra special since this year is the Montreal Review of Books' 25th anniversary! To celebrate, the journal is inviting everyone to the Cardinal Tea Room on Wednesday, July 6th for its Summer 2022 Issue Launch. Authors Rawi Hage, Gina Roitman, and John Emil Vincent will read from their new books, available for purchase and signing on site. The evening also includes live music by pianist Jeff Louch. Make sure to get there early, as the first 50 guests will receive special door prizes—doors open at 6:30 p.m., and readings begin around 7 p.m.
Montreal Comiccon
If you missed Montreal Comic Arts Festival last May, don't despair: you can get your fill of comics during Montreal Comiccon, running July 8 to 10 at the Palais des congrès. The event has two categories of comic-book guests, the latter of which is the French BD (bande dessinée). In both categories, guests from all over the world are set to appear on stage,sign autographs, and take pictures with fans. Featured guests include the Gazette's political cartoonist Aislin, current Conan the Barbarian writer/illustrator Jim Zub, and Kevin Eastman, the co-creator of Teenage Mutant Ninja Turtles. For the full program, check out the Comiccon website.
Fierté Montréal — An Evening With Alok
Fierté Montréal is bound to have more literary events up its sleeve (looking at you, Des livres et des paillettes avec Barbada), but the only one confirmed so far is this evening with internationally acclaimed writer and speaker Alok Menon. The show, which is totally free, will take place at Théâtre Olympia on August 1. Alok will be accompanied by multimedia artist Kim Ninkuru, comedian Jes Tom, and multidisciplinary artist and drag queen Chiquita Mére, for an evening of poetry, humour, and performances. To RSVP and book your ticket, check out Fierté Montréal's website.
The Nomad Cook Book Tour
Chef Travis Petersen is hosting intimate dinners as part of promoting his latest book, The Nomad Cook—Introduction to Culinary Cannabis. His tour stops in Montreal on Tuesday, Sept 27, for a unique dining experience over five courses, complete with mocktail pairings. The event only allows for 20 guests—you can book your tickets right here.
Billie Gagné-LeBel is a queer freelance writer and content creator who loves to explore questions of identity and mental health, alternative relationships and lifestyles, beauty, and all things pop/geek culture. She writes for her own blog and publications such as Grenier aux nouvelles and BE MTL, and does copywriting and social media creation for a range of clients.
Illustration by Nora Kelly