Our roundup of seasonal literary events for spring 2023
by Emma Telaro
Have we made it? Are we on our last stretch? Is winter finally over? Of course, this is Montreal, so we shouldn't get ahead of ourselves. There may very well be one last storm, looming around the corner.
But spring is near, and there's much to look forward to. For us bookish souls, it's finally time to head out and enjoy some literature in the city. Besides dragging our books along to melted park benches, this is a great time to check out some local literary events. If you're wondering what to attend, we've done the research for you – here's what's going on this Spring.
Blue Metropolis Literary Festival
The Montreal Review of Books launched its Spring issue alongside the Blue Metropolis Literary Festival program announcement on Thursday, March 16th. This year, the festival celebrates 25 years. To honor the occasion, Blue Met has unveiled a stunning list of events (full program here). There are too many to list, but here's a few notable ones:
On April 17th, Librairie Paragraphe Bookstore and Festival Blue Metropolis, in association with Penguin Random House Canada, present Words After Dark with 𝐌𝐚𝐫𝐠𝐚𝐫𝐞𝐭 𝐀𝐭𝐰𝐨𝐨𝐝, to mark the publication of her collection of short stories, Old Babes in the Wood.
For those wanting to mingle with the literati, the opening ceremony takes place on April 28th at 4:30 pm. Immediately following the ceremony is the official Blue Metropolis 25th anniversary event, with special guests William St-Hilaire, Linda Leith, Patterson Webster, and Antoine Tanguay. Tickets are $20 and include a glass of wine.
On April 29th, Michael Ondaatje will receive the 2023 Blue Metropolis International Literary Grand Prix. He is preceded by the award ceremony of the Blue Metropolis / Conseil des arts de Montreal New Contribution Literature Prize 2023. Tickets for the ceremony are $15.
Performances & events
The Casa del popolo crew is back with its usual cool programming. For World Poetry Day on March 21st, head to la Sala Rossa for Soirée poésie + traduction, an event hosted with La poésie partout and ATTLC. Expect poems and translations in over 12 other languages, with readers Nahka Bertrand, Craig Commanda, Nicholas Dawson, Alina Dumitrescu, Eli Tareq El Bechelany-Lynch, Eléonore Komai, Nadine Ltaif, Elisabet Ràfols-Sagués, Alejandro Saravia, Sebastian Schulman, Claire Varin and le Parolier du Karthala.
A few weeks later, on April 14th, La Sotterenea is hosting PINK NOISE ET POÉSIE, a "poetry-noise-sound" event in 4 acts, with Cloud Circuit, Pigs & Wolves, Oana Avasilichioaei, and Marliou Craft – tickets?
Bookstores / Book clubs / Book launches
Get out for some fresh air and visit your favourite local bookstore to browse this season's latest releases – you might stumble on a fun local literary event! Librairie Drawn & Quarterly is hosting several book club meetings this Spring, along with the launch of Xanax Cowboy by Hannah Green, who will be in conversation with Eileen Mary Holowka, on May 2nd. For a full list of the bookstore's events, visit their website.
On March 24th, Librairie St-Henri Books will launch Monica Heisey's debut novel, Really Good, Actually. The author will be in conversation live with Heather O'Neill. Check out the bookstore's Instagram account for more details.
This isn't happening at a bookstore, but head to Turbo Haüs (yes, Turbo Haüs) for the launch of BLEED: Destroying Myths and Misogyny in Endometriosis Care, Tracey Lindeman's new book, on March 21st. A fitting venue for such a controversial, and badass book. Equally fitting, feminist co-op bookstore l'Euguélionne will sell copies of the book on site. And if you want to swing by the shop that week, l'Euguélionne is launching Nisha Coleman and illustrator Shanthony Exum's new title, Dear Humans, on March 25th – a kids' book that packs some punch. See their Facebook events page for more happening at the store this Spring.
In that vein, story time at the Argo continues through March, on Saturdays at 2 pm. Bring your kiddies along for some storytelling from the Argo volunteers.
Also not happening at a bookstore, but on March 23rd, Montreal author, playwright, and musician Norman Nawrocki will launch Red Squared Montreal at Coop Bar Milton Parc. Expect a multimedia presentation, and Nawrocki on violin. More details here.
Have you heard of the Violet Hour Book Club? The book club meets every month to discuss classic and contemporary works of LGBTQ literature. On April 1st, they will gather to discuss Digressions on Some Poems by Frank O'Hara: A Memoir by Joe LeSueur. The event takes place both in person at the Archives gaies du Quebec, and online on Zoom. You can find more information about the reading on their Facebook page and Instagram account. Following this event, the Violet Hour Book Club will meet twice more this spring to discuss To Be Taught by Becky Chambers on May 6th, and Guapa by Saleem Haddad on June 3rd.
If you're in the mood for a read and a run, consider joining the Uptempo Book Club on April 7th. This month, they're reading Such a Fun Age, by Kiley Reid. Reserve your spot here.
On April 14th, at De Stiil Books, Sruti Islam, Alex Nierenhausen, and James Resendes join moderator Arizona O'Neill for "Weird Era: Navigating Online Spaces, Literally." This event is part of the NEXT series of the Blue Metropolis Festival.
Finally, on Sunday, April 23rd, Librairie Paragraphe Bookstore will launch Mary Soderstrom's new book, Against the Seas. More info here.
There are probably so many other book clubs and launches to come – keep your eyes peeled!
And more!
The Black Community Resource Center (BCRS) will host the world premiere of Where They Stood on Friday, March 31st, at the Cinématheque québécoise. They will debut the book and its animated series. Read about this project and reserve your spot here.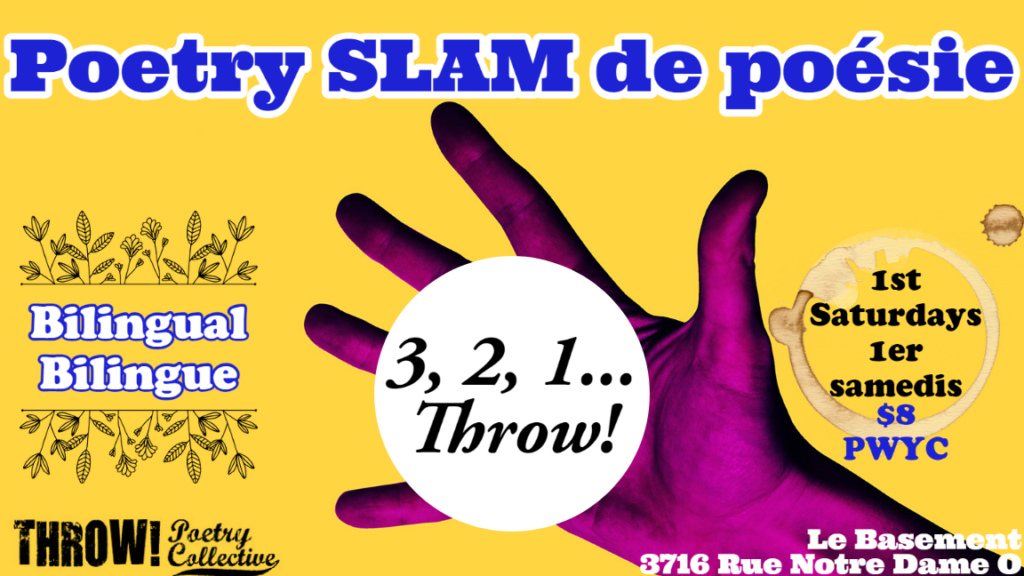 The Throw! Poetry Collective SLAM takes place every first Saturday of the month. Mark your calendars for April 1st, May 6th, and June 3rd for this bilingual poetry event. It's first come, first serve, but you can register in advance here.
To see some comedy writers in action, check out The Sud-Ouest Giggle Fest. There are over 25 shows taking place between April 6-9th at the MAC Museum and Lord William Pub. For a full list of events, see their Eventbrite page.
As part of À voix haute, on April 26th, Monique Polak will read from What World Is Left with the actors Holly Gauthier-Frankel and Eric Davis at the Westmount Public Library. More details here. Incidentally, if libraries are your jam, you can get a tour of the Westmount Public Library and learn about the library's importance within the North American public library movement on April 16th. Tickets here.
Finally, the Montreal Comics Art Festival will take place May 26th to 28th. This is a free outdoor event, happening on St-Denis street between Gilford and Roy. Professional day, the opening ceremony, and the prix Bédélys will precede the festival on Thursday, May 25th.
Perhaps we'll see you at some of these events? Do come say hi, if you're around!
Emma Telaro is a writer living in Montreal. She works with Espace de la diversité / Diversity District, while freelancing on the side.
Illustration by D. Boyd