Montreal's scrappiest small press festival turns 20
By Roxane Hudon
An odorous artsy crowd, a grimy church basement, friendships forged in weird ideas, and surprising literary finds that may cause staple injury – what is there not to love about Expozine? This year, Montreal's favourite small press fair shakes off its teenage angst and turns 20.
The event certainly would not have made it this far if it wasn't for the zeal of co-founder Louis Rastelli and the team at ARCMTL, a non-profit organization and archive centre where you could find many of the zines, comics, and posters that have shaped the fair since its inception in 2002. Amid these printed memorabilia at head office is where I meet up with Rastelli to reminisce about Expozine's beginnings.
"It was during the first Internet bubble, so people still thought that the Internet was going to take over publishing within a couple years," he recalls. "For the first five or six years, every time we did interviews, the journalists were like: 'How come you're doing this now when everything is going online?' Those questions were annoying, but they spoke to the vision we had. The Internet is full of information and data, but it's not a thing, it's not an artifact, it's not a book, it's not a record. Anyway, it turned out that there's a whole type of publishing that doesn't really work with blogs or e-books, like zines and comics. So, we just haven't stopped."
While the digital boom didn't blow up the zine scene, it did change it. According to Rastelli, gone are the personal/diary-type zines that were popular in the '80s and '90s, as are the music reviews and interviews. Those were swept away by the Tumblrs and Pitchforks of this world. "Things are very artsy now. The new generations are super into artisanal printing," says Rastelli, listing letterpress and Riso printing as some of the techniques that have replaced the good old copying, pasting, and stapling method. "Hey, kids are even into photography these days," he adds.
The emergence of these more artistic formats led to the creation of two additional fairs: Volume MTL, which focuses on art books, and GRANDE Print Art Fair, dedicated to posters and printed art. This allows Expozine to remain a space for books, zines, and comics, with a mandate that continues to balance the weird with the more established, the Anglo with the Franco. But change is still par for the course when you turn 20, and let's say that Expozine is entering its experimental college years.
First off, just like life, the fair had to move online in 2020 due to that pandemic thing. Rastelli describes the year as traumatic, explaining that "This has never really happened before, where you organize a big event and poof, the government comes down and everything is cancelled." And so Expozine existed last year as a series of pre-recorded YouTube videos featuring writers or comic artists, Zoom interviews, and virtual poetry readings. As an archivist, there are many aspects of this virtual switch that Rastelli was happy to discover and wants to maintain for future editions, like giving a permanent online home for a selection of zines. "After every single Expozine, in the weeks after, we received messages asking who had done a zine. It's great to be able to keep these things online for people." The live-streaming of events and talks will also remain, to accommodate those who might still not feel comfortable heading indoors and mingling with a crowd. Rastelli also explains that having a lot of online material helps Expozine be an international event that attracts people from all over and makes it easier to network with other fairs.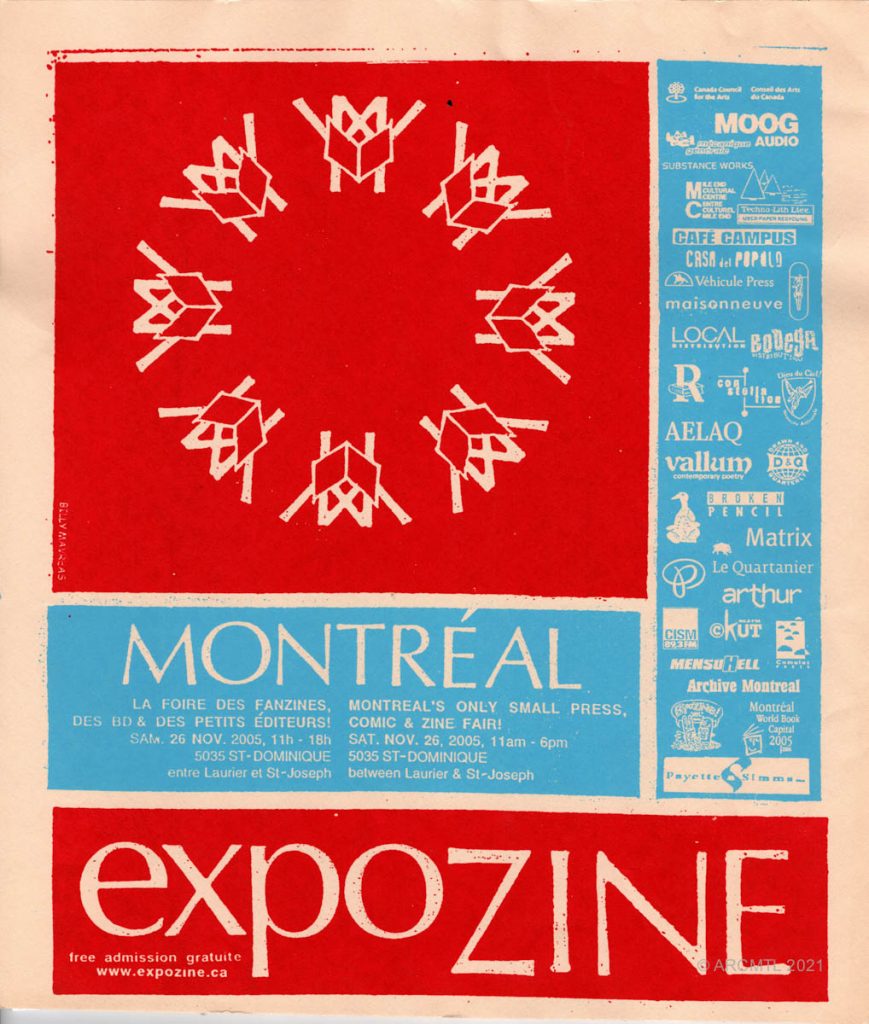 Of course, nothing can replace the simple joy of awkward and/or enlightening in-person zine trades. They were able to organize a kind of in-person test run for Expozine in September, as an outdoor extension to the GRANDE Printed Art Fair that they called Expozine Extra. For anyone out there doing the math, Rastelli counts that as the fair's nineteenth edition and the 2002 event as Year Zero. Taking place on November 20 and 21, this year's official Expozine will launch what he refers to as a "20th anniversary year," which will be peppered with events, including a talk with the original exhibitors and founders and a tribute to Henriette Valium, a long-time exhibitor and underground comic artist who passed away earlier this year.
The event will also introduce another change that might be the most jarring to Expozine fans. "The church basements are gone, and I hope they're gone for good," asserts Rastelli. He says that other cities, like Toronto, New York City, and Vancouver, host zine fairs in "beautiful huge spaces" like universities or museums. Also, the stuffy spaces and anti-vax staff that often comes with churches aren't necessarily the most pandemic-friendly. 
The SAT, this year's venue, presented a happy medium for the still-punk 20-year-old; it's artsy and cool, but spacious and airy and on the cusp of downtown. To those who will miss the old locales (charming smell included), Rastelli responds that "I think there is so much talent in the city and we deserve moving up a little bit. I'd be super excited if, after we move up to a fancier formula, somebody starts their own grungy church basement zine fair and picks up right where we might have left off."
Roxane Hudon is a full-time writer and frequent layabout. Currently a corporate sell-out/ "content creator," but also a punk zine-maker, she has very strong opinions about very few things, including movies, books, Russia, and Harry Styles.
Illustration by Rick Trembles