Marie-Claire Blais in conversation with Katia Grubisic
November 20, 2021 at 7:00 pm

-

8:30 pm

EST

Free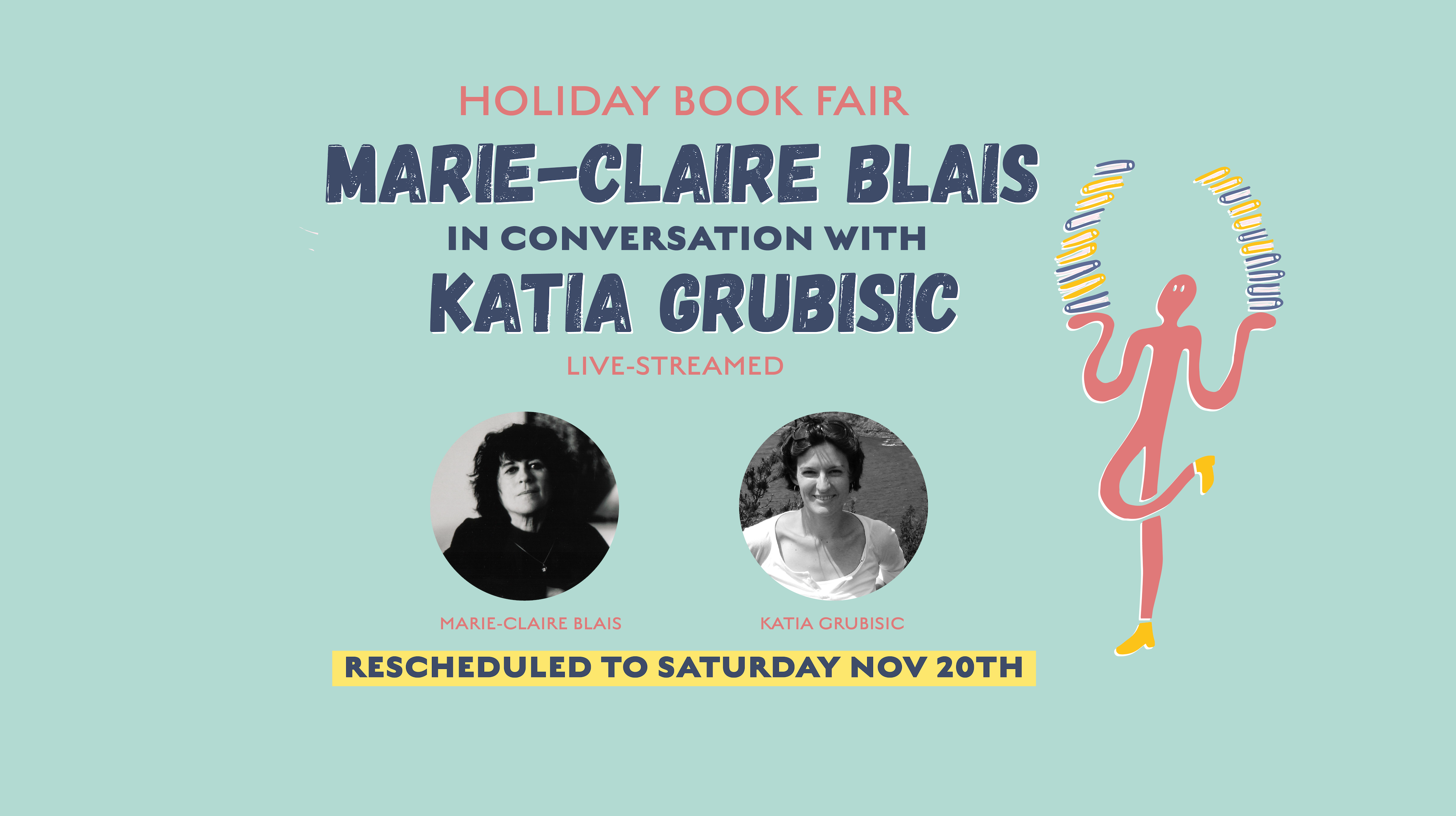 [français ci-dessous]
Please note that due to unforeseen circumstances, this event, originally scheduled for November 17th,  has been rescheduled for Saturday, November 20th, at 7 PM. We apologize for any inconvenience this might cause, and hope to see you then!
Saturday, November 20, 2021, 7 p.m.
Online on Zoom, registration required (see below for details)
Iconic Quebec writer, novelist, playwright, and poet Marie-Claire Blais will discuss her novel Songs for Angel as well as the process of translation with Katia Grubisic, who rendered Des chants pour Angel into English.
The ninth novel in internationally acclaimed author Marie-Claire Blais's extraordinary Soifs cycle, Songs for Angel is an impassioned interrogation of violence and hate that takes us into the soul of a white supremacist on the verge of a racist attack.
The conversation will take place in English and in French on Zoom. Sign-up here, the Zoom information will be emailed to you prior to the event.
Read more about and purchase a copy of Marie-Claire Blais's Songs for Angel, translated by Katia Grubisic.
Explore other 2021 Holiday Book Fair events here, and discover more English-language books written, published, or translated in Quebec at ReadQuebec.ca.
__
En raison de circonstances imprévues, l'événement Marie-Claire Blais en conversation avec Katia Grubisic qui était prévu pour le 17 novembre, sera reporté à samedi, le 20 novembre à la même heure, 19 h. Nous vous prions de bien vouloir nous excuser pour tout inconvénient que cela peut vous causer.
Samedi 20 novembre 2021, à 19 h.
En ligne sur Zoom, inscription obligatoire (voir ci-dessous pour tous les détails).
Parmi les grandes écrivaines québécoises, la romancière, dramaturge et poète Marie-Claire Blais parlera de son roman Songs for Angel et du processus de traduction avec Katia Grubisic, écrivaine, poète et traductrice, qui signe cette version anglaise de Des chants pour Angel.
Ce neuvième roman de l'extraordinaire cycle Soifs de l'auteure de renommée internationale Marie-Claire Blais, Songs for Angel est une interrogation passionnée sur la violence et la haine qui nous plonge dans l'âme d'un suprémaciste blanc suite à une fusillade.
La conversation aura lieu en anglais et en français sur Zoom. Inscription obligatoire ici, les informations Zoom vous seront envoyées par courriel avant l'événement.
Pour en savoir plus et achetez un exemplaire de Songs for Angel de Marie-Claire Blais, traduit par Katia Grubisic, cliquez ici.
Consultez le reste de notre programmation « Holiday Book Fair » 2021, et découvrez d'autres livres de langue anglaise écrits, publiés ou traduits au Québec sur ReadQuebec.ca.