The booklover's guide for Fall, 2023.
by Ariella Kharasch
As the leaves turn shades and slowly shake from trees, Quebecers know it is almost time to carry their book-filled tote bags from the park to an indoor reading spot. What better way to find the coziest spaces than to explore Montreal's literary scene first-hand?
From writer panels and clubs to launches and poetry nights, this fall is chock-full of bookish delights. New to the city or unsure where to start? Here is our compilation of exciting events to look forward to.
Festivals and Fairs
Run by the Kabir Centre for Arts and Culture, a Montreal-based organization dedicated to South Asian Classical arts across Quebec, the annual NexGen Multi-Arts Festival is on the horizon. While the full program lists various multidisciplinary visual art events, a few evenings are dedicated to literature and poetry. On September 30th and October 1st, the Atwater Library will host An Evening of Poetry & Reflections and A Garden of Literary Delights. Both events include readings and a panel discussion by writers Mirabel, Yusuf Saadi, Manikya Singh, Farzana Doctor, Shailee, Angela Misri, Zahida Rahemtulla, and more.
Local bibliophiles are patiently awaiting the 38th Montreal Antiquarian Book Fair, held from September 30th to October 1st. The Quebec Association of Antiquarian Book Dealers (Confrérie de la Librairie Ancienne du Québec) promises to bring internationally recognized dealers to the city for this upcoming book fair hosted by Concordia University. This year's theme is "Banned Books," featuring twenty booksellers from Quebec and Ontario. Discover original editions and peruse private collections with entry tickets under $10 each.
The Read Quebec Book Fair, also in the Concordia Atrium, will return to Montreal on November 3–4, in production with the Association of English-language Publishers of Quebec and Quebec Writers' Federation. In addition to celebrating local publishers, writers, and translators, the fair's program will include a live recording of the Quebec-based Canadian Literature podcast Getting Lit with Linda. If the podcast is new to you, the Book Fair will be a wonderful place to tune in for the first time.
In mid-October, the Quebec Writers' Foundation will introduce StoryFest 2023 with a lecture and discussion led by Montreal author and translator Anita Anand on October 19th. Anand is known for her short story collection Swing in the House and recently published novel A Convergence of Solitudes. Co-sponsored by the Quebec Writers as part of their Writers Out Loud series, the event will be held at the Hudson Creative Club. For more information or to purchase a ticket for $20, look at the event page.
On October 24th, yolk Literary Journal will host an inaugural Literary Oktoberfest at Riverside St-Henri. Yolk encourages you to meet writers, publishers, and editors while enjoying readings and refreshments at their literary networking event from 6–11pm. There are no entry fees!
Libraries/Museums
Many of Montreal's libraries are active hosts of community events, with calendars full of events, in addition to hosting cultural centres and other organizations. In partnership with Les Journeés de la Culture, the Westmount Public Library invites you to meet four acclaimed authors: Jonathan Kaplansky, Linda Leith, Chantal Ringuet, and Caroline Vu. Each featured author will participate in a reading and discussion as part of the Library's Lecture Series and Soirée on Saturday, September 30th.
On October 10th, Isa Milman will join the Westmount Library's lecture series to lead a discussion on her newest book: Afterlight: In Search of Poetry, History, and Home. Admission for the two hour Author Event is free, although the library advises you to reserve your space.
Bookstores
Montreal's assortment of independent bookstores are truly a staple in the curation of culture and art within the city.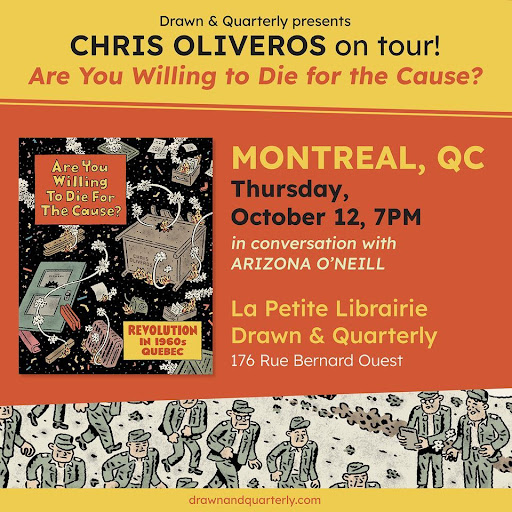 Searching for a book launch to look forward to? Mark your calendars for the evening of October 12th to catch Chris Oliveros' tour at Montreal's own publishing house and bookshop Drawn & Quarterly as he chats with Arizona O'Neill to present his new book Are You Willing to Die for the Cause? Learn all about his book tour to prepare for its launch in the Mile End.
La Petite Librairie Drawn & Quarterly will also host the Fall Issue Launch for the Montreal Review of Books on November 1st. Malcom Fraser, mRb editor, will host the launch in-person and over livestream; there are no admission fees or registration requirements for this event! Join the publication and authors Mostafa Henaway, Chris Bergeron, and Sean Michaels as the mRb launches its new issue.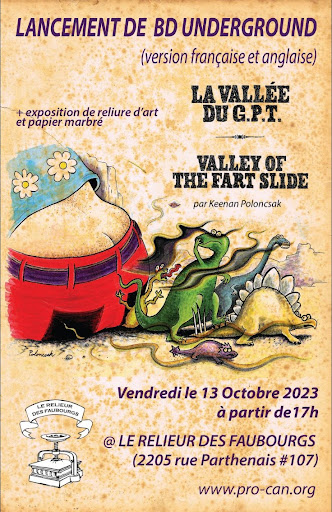 On October 13th, Keenan Poloncsak launches his new comic Valley of the Fart Slide. Located in Poloncsak's bookbinding shop Le Relieur des Faubourgs, the launch will promote copies of the comic in French and English starting at 5pm. Keep up with the author's website to learn more.
A little further into the fall season, join Montreal's feminist bookstore L'Euguélionne for an LGBTQ+ Books Celebration Event. From 6–8pm on November 4th, L'Euguélionne Bookstore will highlight LGBTQ+ books published over the last two years at a free event held at the store. All you need to do is let them know you're coming.
Lastly, keep an eye on social accounts for Librarie St. Henri and The Word Bookstore. While they don't have scheduled events quite yet, these two independently owned anglo bookshops often publicize new talks, readings, and launches for those who stay up-to-date. Happy reading!
Ariella Kharasch is a Montreal-based writer from Chicago. She received a B.A. in English Literature from McGill University and works as a TA at Golden Gate University.
Illustration by Emily Sweny.