by Billie LeBel-Gagné
If you're as passionate about books as we are, you're probably always looking for new outlets to discover new books and discuss them with like-minded bookworms. What better place than #bookstagram to start looking for your literary community?
In case you were not aware, a bookstagram is simply an Instagram account that focuses on books: they present beautiful, intricate pictures of books and other accessories (often including stationary, candles and cozy items reminiscent of a good reading session) accompanied by reviews, criticism, and discussion. They're a paradise for visual book lovers in search of their next literary obsessions. Here are ten Montrealer bookstagram accounts that you should follow right away!
This book influencer, named Anna, is an aspiring publisher who documents the books and magazines she's currently reading in beautiful pictures that often also feature her plants. She frequently asks questions in her captions to start discussions in the comments of her photos, and those questions are usually about a theme related to the book; we love how varied her discussion subjects are.
Kristyn describes herself as a book hoarder, and even keeps count of how many books she owns in her description (hint: a lot!). Her photos are intricate montages of flowers and objects surrounding the books, all matching with the covers. Her captions include ratings of the books, out of five stars, and reviews, including trigger warnings about the book's contents when necessary.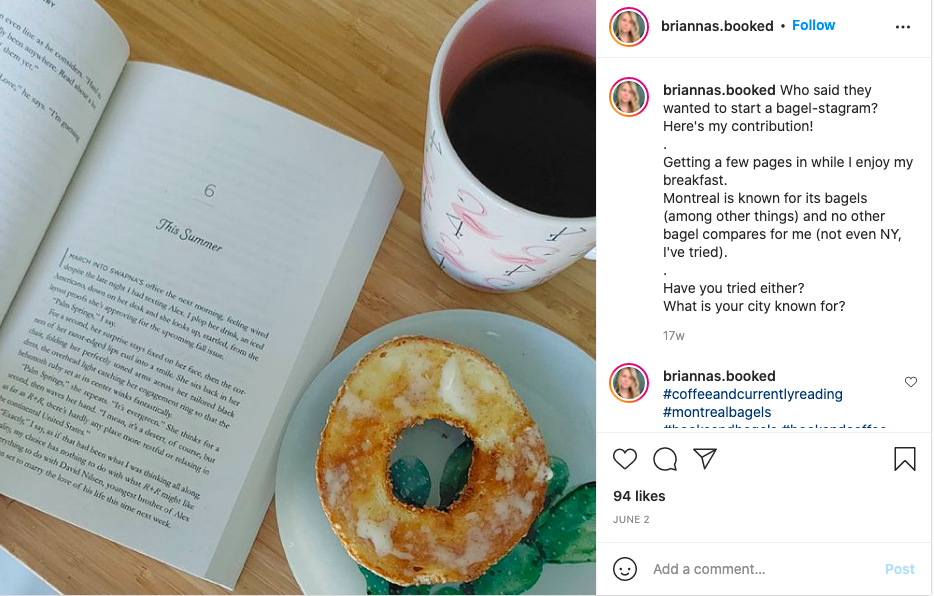 The pandemic was the kickstarter to this bookstagram account. As a stay-at-home mom, Brianna often includes content on children's books and what her family has read, and loved. Her pictures are varied, including snippets of everyday life, her children, and books she's currently reading in a variety of settings. Reviews, questions, and rantings make up her captions; overall, it's a balanced and lovely account to get to know Brianna as a reader.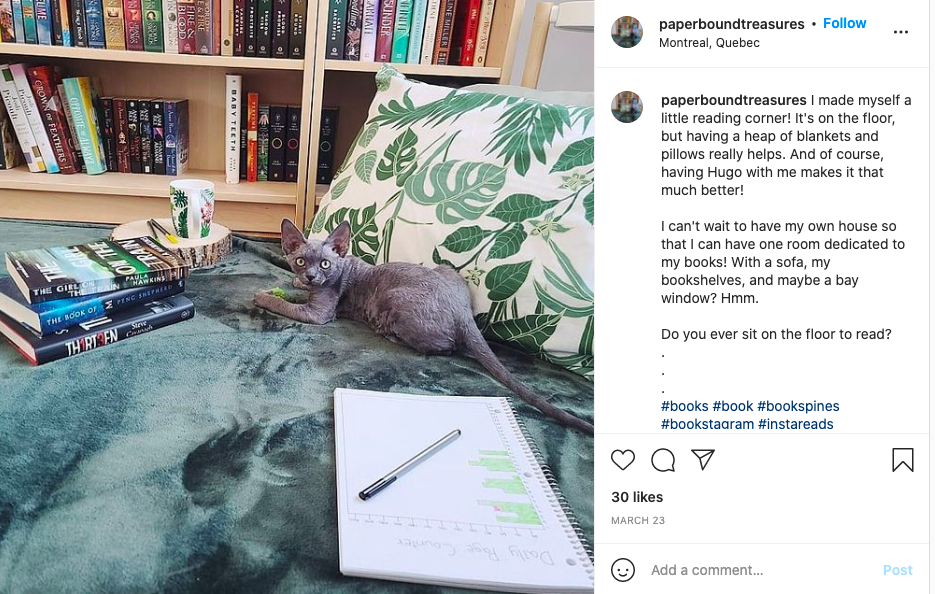 Claudia is a records manager with a diploma in Information and Library Sciences, so for her to start a bookstagram was a natural development. Her cute blue-grey cat Hugo is often present in her pictures: she has varied pictures of the books she's currently reading, her home library, and her book cart. Along with her thoughts about the book pictured, she includes the full synopsis in her captions, making it easy to shop her feed and discover potential new favourites.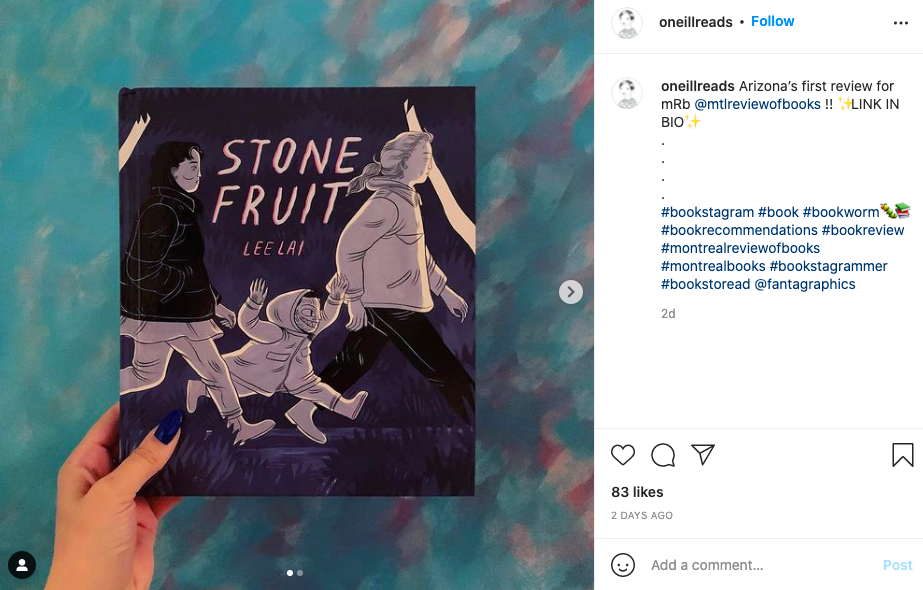 This bookstagram is run by Heather O'Neill—a successful Montreal author whose published titles include "The Lonely Hearts Hotel" and "The Girl Who Was Saturday Night"—and her daughter Arizona, a multi-talented artist who makes visual and performance art as well as film. The account works as a diary of the books they've been reading; their pictures are usually of the books held in front of interesting backgrounds, with quick reviews or synopses.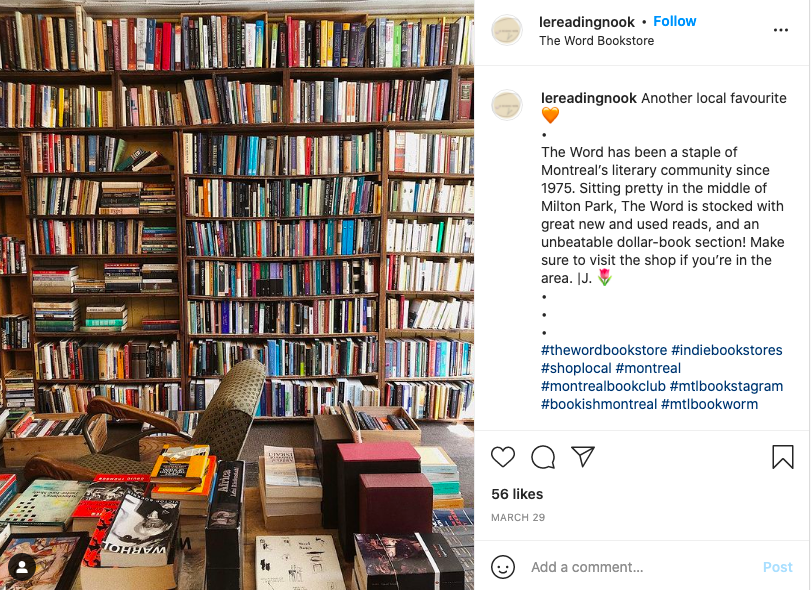 Bettina and Jessica are two bookworm friends who decided to start a joint bookstagram account. Each post is signed with their initial, so you know who's sharing what—same goes for their story highlights, which are separated between the two. Their feed includes photos of their pets along with the books they're currently reading and some of their favourite Montreal bookshops.
Elise is a book lover who reads a bit of everything, both in French and English: manga and comics, as well as fantasy and sci-fi, seem to be her favourites. Her account features all kinds of fun pictures including herself, and she often posts book recommendations and new releases. She even has a bilingual YouTube channel!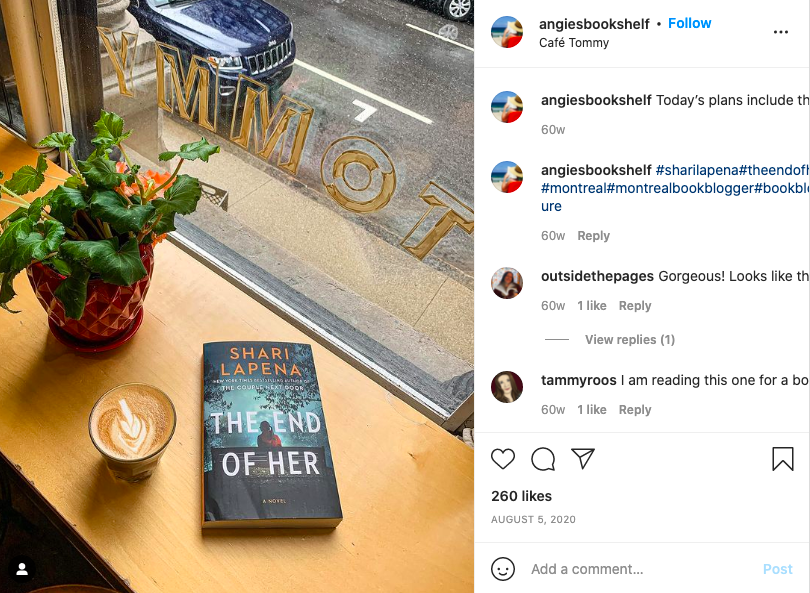 Angie is a fan of thrillers, and her bookstagram account features mainly suspenseful novels. Most of her photos include reviews in the caption, along with a starred review. She often takes pictures by her pool, or along with her snack and beverage of choice, which has us all a bit jealous.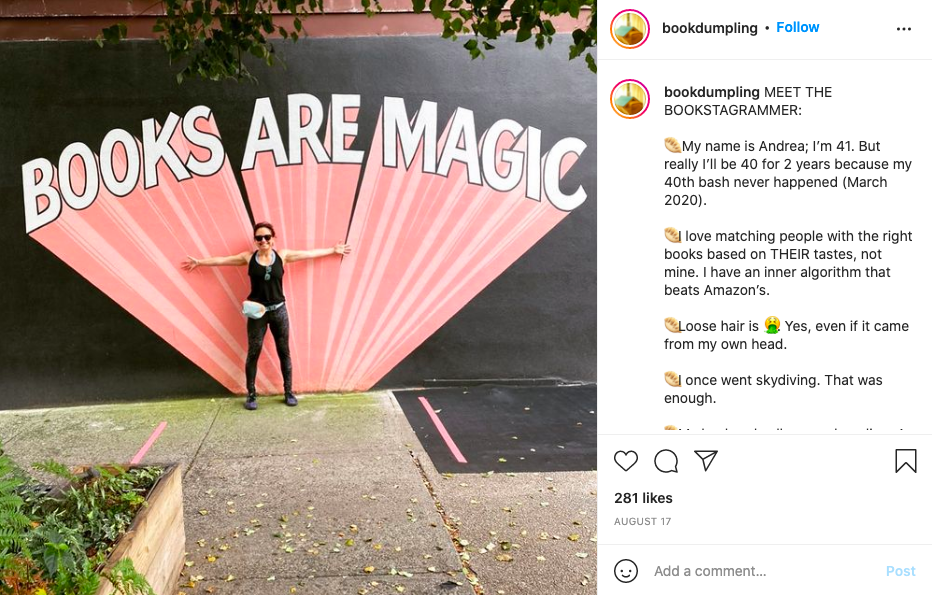 High school teacher Andrea, who was diagnosed with ADHD as an adult, decided to launch a tutoring service to help kids based on different learning styles, called Book Dumpling Tutors. Her own bookstagram account, which has the same name, is where she shares her latest reads: she keeps her captions short and sweet, detailing who the pictured book is for, and who should skip it.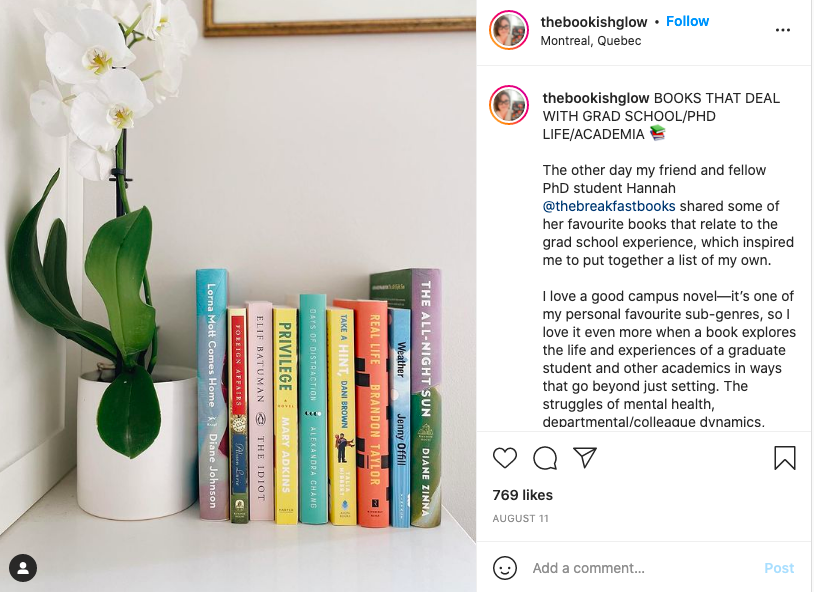 Alexandra is a PhD student who loves to read, and shares her passion for books through her bookstagram account. Her feed is slick and cozy, with lots of pictures against plush pillows and soft blankets—sometimes, her cats Rudy and Rosie make an appearance as well. She shares reviews of books, everyday reading moments and lists of books she recommends.
Billie Gagné-LeBel is a queer freelance writer and content creator who loves to explore questions of identity and mental health, alternative relationships and lifestyles, beauty and all things pop/geek culture. She writes for her own blog and publications such as MSN and Screen Rant, and does copywriting and social media creation for a range of clients.
Illustration: D. Boyd